The Potting Coop
The Potting Coop is a fun, fairytale design of house, that looks just fabulous when set in a well planted or cottage garden.
Suitable for a couple of hens or a trio of Bantams, with their quarters in the lower half of the potting shed, it combines a house, clear fronted upper potting shed, chicken run and bin store. Everything you need to look after your birds and plants can be kept together - how great is that!
Good size front door to the chicken house and nest box for easy access and cleaning.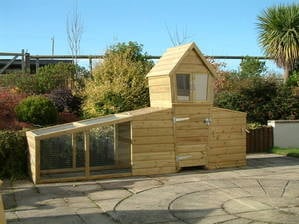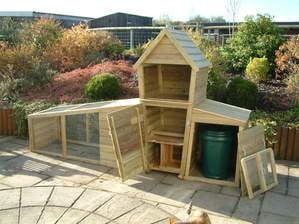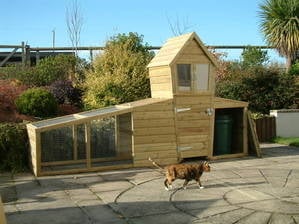 Key Features:
Dimensions 3250 x 790 x 1900

Secure, well ventilated chicken house, run, potting shed and bin store

Full width access to chicken housing and nest box

Lift-out clear 'window' section to get access to potting storage

Custom made run, with partially enclosed area for shelter and feed. Lift-out top to get access to pop-hatch

Built-in nest box and raised perching area with droppings tray

Run has cladded facias, so there are no sharp wires to catch you or your birds
Price:
Options:
Comes in a natural finish, but can be stained in a choice of colours - from £95 +vat