The Hartford House and Run
The Hartford is a great looking and very practical house. It is suitable for up to 6 chickens. As the house itself is on a raised level, cleaning is simplicity - without any bending! The front lifts off to gain access to the entire inside of the house. It has two internal nest boxes, which are accessed via an external door. An integral ramp keeps your birds safe at night.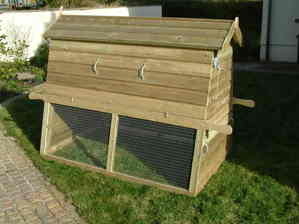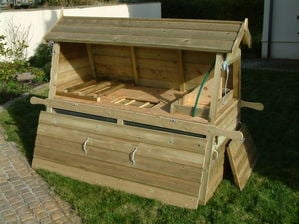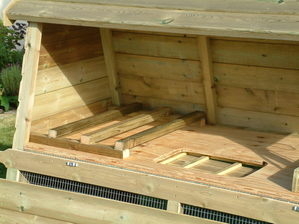 Key features:
Dimensions 2100 (incl handles) x 1090 x 1380

Lift-off front, two removable ends, nest box door, floor, nest boxes and perches for easy cleaning

Nest boxes are accessed via external door

Comes complete with two removable ends, so that you can fit a run at either side

Integral carrying handles
Price:
Options:
Lower weather screen one side instead of weldmesh £45 +vat

Hartford Run £325 +vat
The Hartford Run:
We make this run to fit the Hartford. Given the care and attention to detail we put into our houses, we decided that we should make our runs to the same standard - after all, why buy a really nice house and then attach it to an unsightly wire box!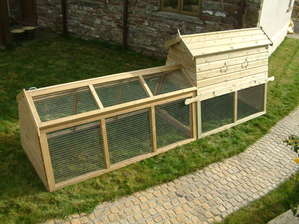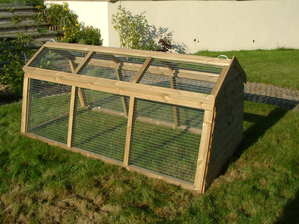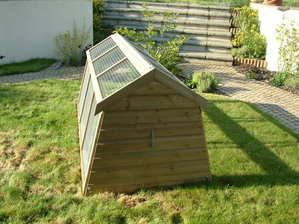 Key Features:
Dimensions 2205 x 1080 x 1045

All external framing is cladded, so there are no nasty sharp wires to catch you or your birds

Custom made for our Hartford house

One end cladded, with an integral access door

12mm x 25mm galvanised weldmesh

Fitted carrying handles
Price:
Options:
One third roof weather screen with one removable panel instead of weldmesh - £40 +vat